Our Story…
Twin Cities Aviation began operating in 1997 at the Anoka County Airport in Blaine, Minnesota.
TCA was the culmination of a dream by founder Bill Ahmann, A&P/IA, who after years working as an A&P mechanic on piston and turbine aircraft in the Minneapolis-St. Paul area started his own business with the goal of providing outstanding personal service to aircraft owners and operators in the Twin Cities area.
In 1999 TCA became one of the first Cirrus Authorized Service Centers in the country. Cirrus Design Corp. chose TCA as a service center over several larger maintenance shops in the area partly because of the personal attention Bill and his staff provide to their customers, which fit well with what became known as "The Cirrus Experience."
In 2008 Twin Cities Aviation became a part 145 certified repair station, again meeting tough FAA requirements for training, quality control, inventory control and record keeping.
Our mechanics have decades of military and airline maintenance backgrounds as well as extensive experience working on piston aircraft. They have experience with heavy jet maintenance, avionics, systems, structures and composites and bring the high standards of technical excellence demanded by airline and military operations to our piston and turbine customers.
TCA's maintenance staff has undergone factory training on a range of airframes including: Gulfstream G200, the Falcon 10/20 series, Westwind, King Air, Hawker/Beechcraft 400/800, Saberliner, McDonnel-Douglas, Cessna, Robinson and Enstrom helicopters and Cirrus' popular SR20 and SR22 aircraft.Twin Cities Aviation's staff is well suited to work on all types of General Aviation aircraft, from Experimental to Light Twins.
As of October 2018, the Twin Cities Aviation team has moved to a well-equipped location in the Lynx FBO hangar on the north end of the Airport. This move will give the maintenance team a chance to continue growing and and provide the service our customers have learned to expect. We will also be adding the tag of Icon A5 Authorized Service Center to our list of growing options for the new LSA market.
Twin Cities Aviation will continue to be a regional leader in General Aviation Service, with our core focus being the continuing satisfaction of our loyal and growing customer base.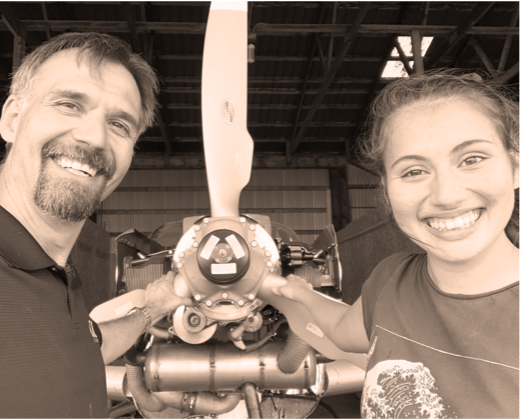 Craig Mueller, P.E.
President
Craig began working with Bill Ahmann in the early 1990's – obtaining his A&P license through practical experience as an apprentice under Bill's supervision. After receiving his A&P, Craig continued working with Bill for several more years while going to college to become an Aerospace Engineer. Transitioning to engineering – Craig worked as a Liaison Engineer for Northwest Airlines (developing repairs for DC10, 747, 757, DC9 & Airbus aircraft), and later as a Project Engineering for NWA on the A330 as a structures engineer. In 2006, Craig earned his Professional Engineer license in MN, and in 2009, Craig and his family (yes – entrepreneurship has been a family profession) began the adventure of entrepreneurship! AAC Engineering has been the professional focus for the past decade for Craig. In 2019, an opportunity for Craig and Bill to work together arose, and it has resulted in an excellent synergy once again! Expect lots of refinements in the years ahead as we bring this capable team together!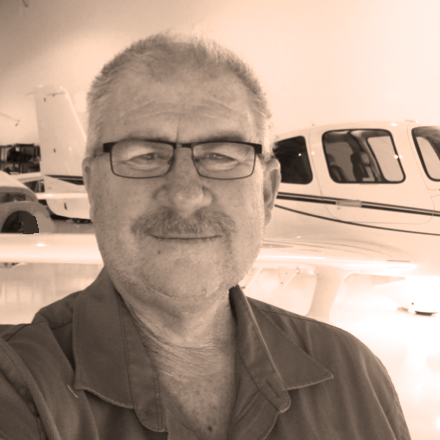 Bill Ahmann
Founder, Twin Cities Aviation
Bill has been working as an A&P/IA for, well, an awfully long time! His common sense approach to customer service and business ownership have been instrumental in building TCA – one of the oldest Cirrus Authorized Service Centers in the USA. Bill has a long standing commitment to general aviation and breadth of connections throughout the industry to result in a very strong network of capabilities that TCA offers to our customers. From the team at TCA – Many thanks to Bill and Barb for your perseverance – TCA would not be here without your grit!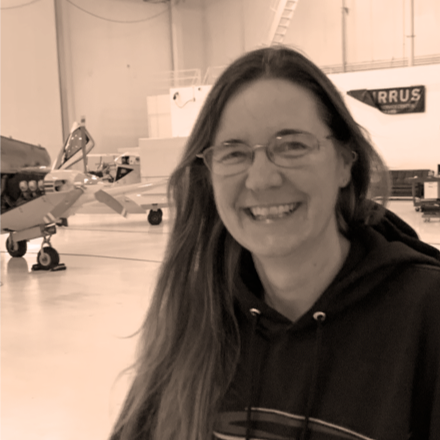 Christal Misukanis
Parts Manager & Business Administrator
With over 25 years of experience in aviation, Christal is the best Business Administrator & Parts Manager the team could ask for. She has an encyclopedic knowledge of Cirrus aircraft parts and a vast knowledge of FAA regulations, and is able to quickly adapt to any challenges that get in her way.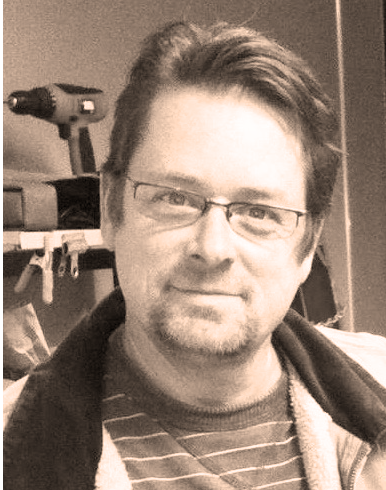 Dan Tate
Chief Inspector
Dan Tate began his aviation career in 1983. He graduated from UND with a degree in Aircraft Systems Management, and Commercial Pilot, and Flight Instructor Certificates, with Instrument and Multi-engine ratings. Ten years later, Dan attended Red Wing – Winona Technical College and received his Mechanic Certificate, Airframe and Powerplant rated. Dan's work experience has spanned many fields from honing his sheetmetal skills at Baumann Floats, to doing fast pace, line maintenance for a 145 flight school at the University of MN-Mankato and also part 135, piston twin maintenance for Anoka Air Charter. Ultimately, landing at Twin Cities Aviation in 1999 (formerly Aircraft Maintenance Services), Dan was in the first class of six technicians trained at the Cirrus factory in the early 2000's. Robinson R22/R44 factory training followed shortly after. He also managed TCA's satellite shop in the mid 2000's specializing in composite airframe work. Following a dream shared with his wife, they left Minnesota for a while and raised their family on an island in Alaska. That task accomplished, Dan has returned to Minnesota and TCA. In his spare time, Dan is an avid outdoorsman, jet boating the Stikine River and exploring the wilds of Southeast Alaska in general. He is also passionate about off-road adventure motorcycling having traveled North, Central and South America.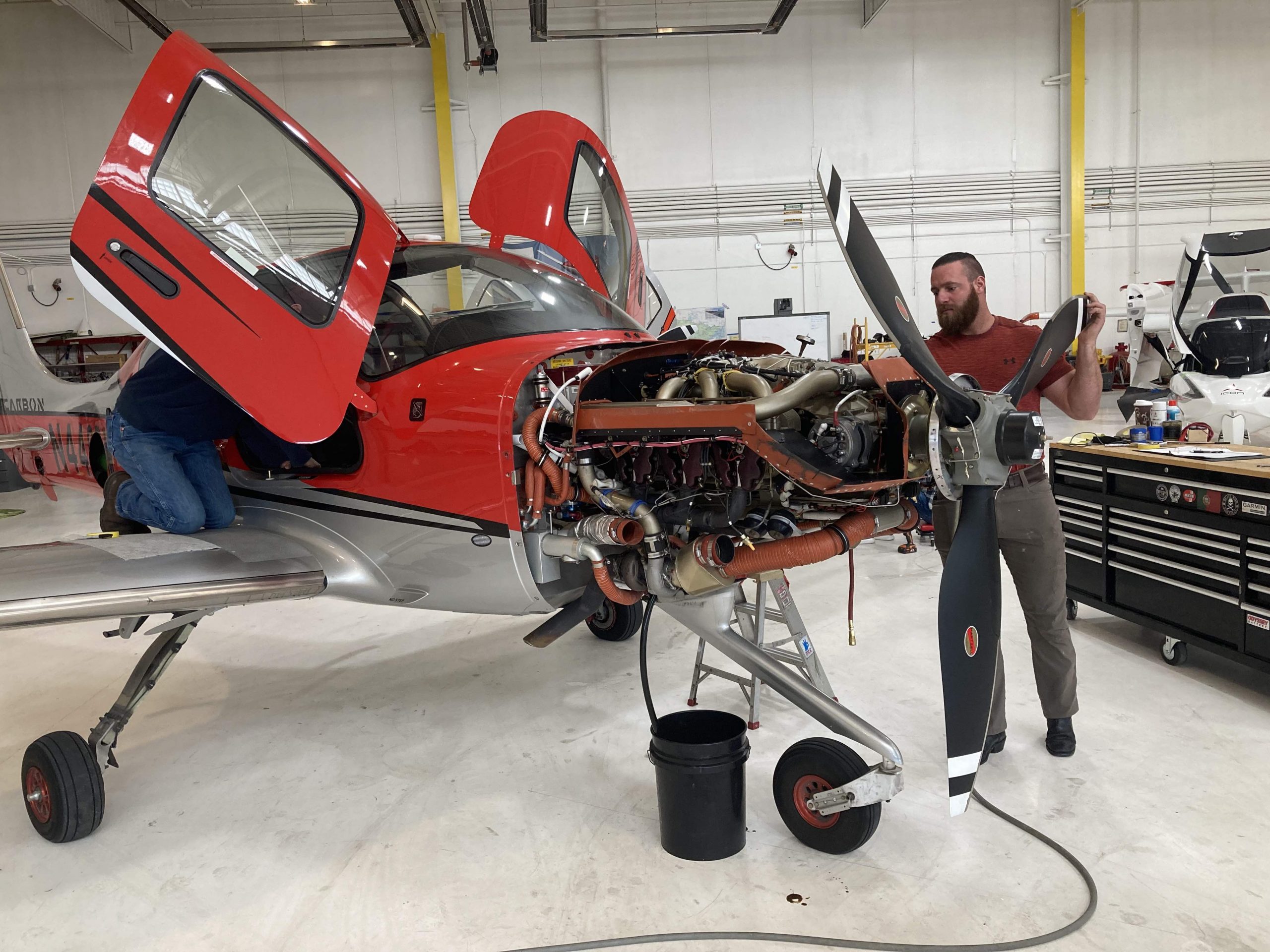 Parker Van Sickle
Lead A&P Mechanic
Parker Van Sickle began his career in aviation in 2017 at Sacramento City Aeronautics school in California. Parker and his family left California to put roots down in the state of his forefathers, Minnesota, and has made Twin Cities Aviation his forever home. Parker is a veteran of the 75th Ranger Regiment who's work ethic and attention to detail easily transferred into his passion for aircraft maintenance and service excellence. Parker joined Twin Cities Aviation in the summer of 2020 and has since acquired certifications in CAPS, Composite Repair, IFR/VFR equipment testing. Parker's passions and aspirations include obtaining his pilot's license one day, owning and maintaining his own plane as well as traveling the world with his wife and children. Always eager for a challenge, Parker frequently lends his time to the pilots of the planes he is working on no matter how busy the hangar may be. Parker firmly believes in the value of knowledge shared, especially when it comes to aviation.